| | | |
| --- | --- | --- |
| Fall in love with a new or used car or motorbike during our Heartbreakers Valentine Event starting Saturday 10th February to Sunday 18th February and you will receive a voucher for a free Seven nights hotel stay in Spain. | | Now is the time to view the latest range of vehicles and take advantage of incredible subsidies, made available exclusively to us over the Valentine period. Our Directors will sign off significant customer savings and authorise special finance opportunities |



Ben Muckley

Who are you?

I am Workshop Controller at John Banks Honda cars and bikes in Bury St Edmunds. What do you do? I am responsible for the smooth running of the workshop on both Honda vehicles and Honda Motorbikes. I make sure there is a smooth transition for the customers' vehicles, this may involve problem solving, sourcing parts and helping the technicians.

How long have you been in the motor trade?

I have been in the motor trade for 26 years, 6 years with John Banks Group.

What is your favourite part of your job?

Every day is different, with different challenges, my day goes fast and is non-stop.

What do you do in your free time?

In my spare time I foster dogs for the RSPCA. Over the last 2 ½ years I have fostered over 30 dogs, some have spent their last days with us and we have rehabilitated others so the RSPCA can rehome them with new forever homes. Having the dogs has been rewarding but challenging, but our carpets and curtains have sometimes been

destroyed by the more mischievous ones.

Tell us something we may not know about you?

I was brought up in a remote village on top of a hill called The Crooked Road near Beattock, it's a village in Dumfries and Galloway, Scotland, approximately half a mile south-west of Moffat. It was so remote, when I was a child we used to bath in the river until it froze in the winter and I often had to feed the sheep because the farmers could not reach us if the snow drifts were too high.



Before your bike re-appears from its winter hide away, contact John Banks Honda Bikes to book an Unveil Health Check and return it to its best working condition.

The Health Check will examine all your bikes necessary safety and mechanical parts and will only take 45 minutes, just long enough for you to enjoy a coffee while relaxing in our comfy Customer Area.

To book your Unveil Health
Check Call 01284 330 565.


| | | | | |
| --- | --- | --- | --- | --- |
| | The big difference…Just like the petrol grades, it's been totally re-engineered. A new chassis combined with an independent suspension system, delivers a smooth ride and precision handling. Underneath the sleek bodywork, the power is delivered by a responsive and refined 120PS 1.6 i-DTEC diesel engine. This new sporty hatchback is not just a driver's car, but an economical car as well. It will take you further on each tank full, while giving you a real sense of connection with the road ahead. | | The dimensions of the Jazz are truly deceptive. The new-look is bold and assertive on the outside, with so much room on the inside it's uncanny. But that's not the only thing that will surprise you; there's a new Sport grade available with a responsive 130PS 1.5 litre i-VTEC engine. The new Honda Jazz Sport – still applauded for economy – is agile and eager to go. A sporty look - The Sporty Jazz front bumper and grille are designed to give it a purposeful, focused attitude. | |


Here at John Banks we pride ourselves on the "John Banks Difference" and we pride ourselves in retaining our customers and making sure they are driving the vehicle that fits their needs and circumstances. If you currently have your vehicle on finance whether you purchased it from us or not we offer a no obligation Vehicle Finance Check. We can analyse your current monthly payment and annual mileage to see if

you are driving the best option for you and give you personalised options. Everyone's circumstances are different, and no two finance agreements are the same and options will be different depending on how long you have owned the vehicle, the mileage and deposit you may have put down. In some circumstances we may been able to upgrade you to a newer vehicle with similar specifications or indeed an upgraded
specification for the same or less monthly payment. You may even fancy a change and go for a different new or used vehicle. For your no obligation Vehicle Finance Check contact us today…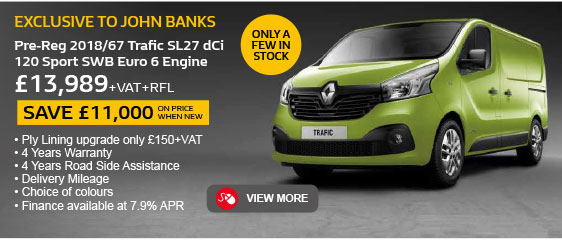 MOT Testing Changes are coming…

The Driving and Vehicle Standards Agency (DVSA) are making changes to the way the MOT is carried out. The changes will take effect from 20th May 2018 and will affect the testing, procedures and standards for MOT tests in England Scotland and Wales.

The full finalised changes will be published at the end of April but here is a highlight of some of the changes

Advisories are being replaced with minor fails – These are all pre-written and approved by the DVSA. You may still get a pass, but they will be noted on your test certificate.
Reverse lights are now part of the MOT for any car registered from 1st September 2009 (59 plate onwards)

Daytime running lamps and front fog lamps must work on vehicles registered from March 2018 (18 plate onwards)

Engine Management Light is now a major fail. It must come on with the ignition and then turn off when the engine is started. Brake pad warning lights are a major fail.

Handbrake with excessive travel is now a major fail. Before it would only fail if there was no reserve travel.

Oil leaks (engine, gearbox etc) can be a major failure if they are deemed large enough.

Emissions limits for diesels registered after 1st of January 2014 have been reduced. All diesels will now need to pass the limit that was set by the manufacturer when the car was new.

These are some of the changes but for further information or to book an MOT please contact us…

Honda Bury St. Edmunds
Kempson Way
IP32 7AR
01284 330557
Honda Cambridge
444 Newmarket Road
CB5 8JL
01223 656180
Honda Ipswich
Felixstowe Road
IP10 0DE
01473 365133
Suzuki Bury St. Edmunds
Kempson Way
IP32 7AR
01284 545144
Suzuki Ipswich
Felixstowe Road
IP10 0DE
01473 365361
Honda Bury St. Edmunds
Motorcycles
Kempson Way
IP32 7AR
01284 330565
Renault Cambridge
13 Swann's Road
CB5 8HY
01223 633656
Dacia Cambridge
13 Swann's Road
CB5 8JZ
01223 663275